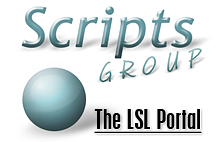 Welcome to the Scripts Group's "LSL Portal"

Edit
LSL Portal is a full LSL Reference, containing any available documentation information from different sources, as also referring to original documentation or further resources.
Please feel free to register (which is very simple and fast) and contribute to the Wiki.
This is still a work-in-progress. Please check out the official LSL Portal instead.

IMPORTANT! Registration is easy and removes all ads (except one on the main page), additionally widgets offer bookmarking pages and other customizable personal features!
===Last Additions===5th January
3th January
2th January
30 Dec
29 Dec
28 Dec
For new editors
Edit
It's very simple to start, even if you haven't worked with a Wiki before. Don't worry about doing something wrong, you can't break things. Any change is undo-able.
Here some introduction:
Getting started - The Basics - How to register and edit a page
Editing in Depth - Explained in pictures and video tutorial
Sandbox - Use that one to try out editing, if needed
Using Templates - To create LSL Function pages and edit other pages, please use templates. There are many templates already created and more will be available soon. If you don't know or understand how to use templates or they are not available yet, just create/edit pages without them for now.

Go on and create the pages you think are required or content you would like to see. Any contribution is a step forward, no matter how good or bad you are ;) Everything can be improved.
The first thing you could do is as example, to edit your own Userpage and write something about yourself and then add it to this list:
(add here)
I will move those later on their own Users Section!
Latest activity
Edit
Community content is available under
CC-BY-SA
unless otherwise noted.